Baking with Heart: Cookies By George's Commitment to Quality, Community, and Care
At Cookies By George, we believe that the sweetest success is baked with heart. Our journey began in 1983, in the bustling city of Vancouver, where our founders stirred the first batches of our now-famous cookies. From the beginning, we committed ourselves to quality, using only the finest ingredients despite the costs.
But our story is about more than just cookies. It's about creating a business that values its community and cares for its people. It's about making decisions that prioritize our customers and the environment over profit. It's about building partnerships that align with our commitment to fair trade and sustainability. Above all, it's about staying true to our roots while spreading the joy of freshly baked cookies from Alberta to the world.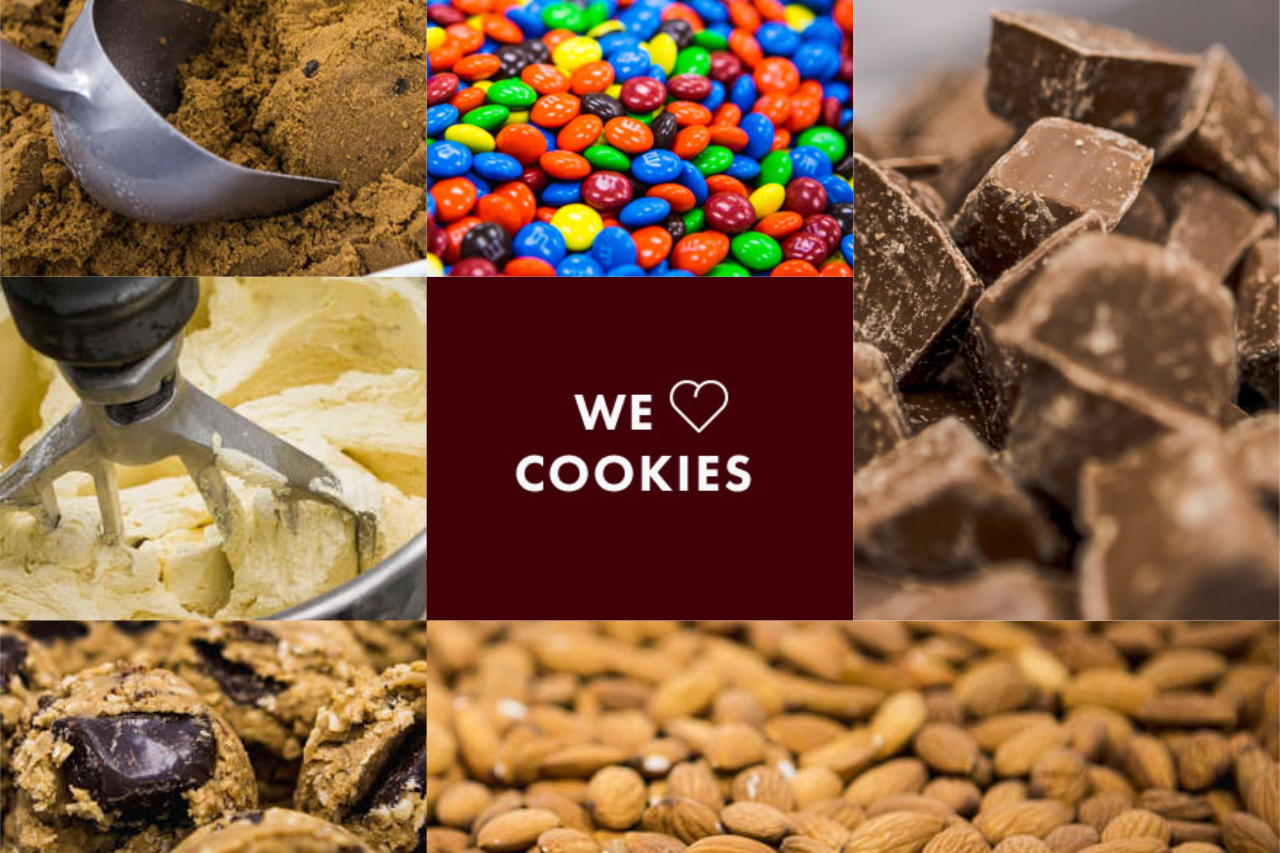 The Birth of Cookies By George
In Vancouver, three visionary women ignited the spark of a sweet revolution, founding Cookies By George.
Our First Franchise in Edmonton
A young entrepreneur named Judah was captivated by our mission and vision, opening the first franchise in Edmonton, Alberta.
Setting Down Roots
Recognizing the warm welcome we received in Edmonton, we moved our head office there, deepening our connection to the vibrant community.
Baking With Heart
Today, we continue to bake with love and dedication, ever-committed to our values of quality, community, and care.
Our people
People are at the heart of everything we do at Cookies By George. We believe in supporting our team, providing good jobs, and creating an environment that feels like family. Over the years, we've watched our staff grow, not just as employees, but as individuals, nurturing their skills and talents. Their dedication is the secret ingredient that makes our cookies taste just like home.
Our community is equally important to us. We cherish the relationships we've built, whether it's with local businesses, our partners, or our beloved customers. We believe in giving back, sharing our success with those who have supported us throughout our journey. We see every cookie as an opportunity to connect, to bring a smile, to make a day a little sweeter.
Baking a Difference: Our Commitment to Quality, Sustainability, and Community
At Cookies By George, our approach to work is guided by our commitment to quality, sustainability, and community. We make decisions based on these values, not on price. We invest in quality ingredients like fair-trade Valrona chocolate, and sustainable packaging from Sea Side Paper. We actively support our local community, from providing good jobs to donating cookies to worthy causes. Every cookie we bake, every package we deliver, is a testament to our dedication to making a difference.
Countless Local Cookies
Adhoc Donations
In times of need, we've baked innumerable cookies for our local community, standing by their side.
900 Cookies Per Week
Edmonton Blood Services
At Cookies By George, our commitment to blood services is baked into the heart of our operation. Every week, we donate 800 of our handcrafted cookies. It's a gesture that goes beyond simple generosity—it's a testament to our belief in the vital work that blood services do. We understand the importance of blood donation and the immense impact it has on saving lives.
500 Cookies Per Event
MS Society
Our support for the MS Society is another important facet of our community engagement. Every time they host an event, we ensure they have 500 of our finest cookies. We believe that our cookies can bring a moment of joy and respite in the face of adversity. As the aroma of our freshly baked cookies fills the air, we hope to inspire optimism and resilience, reminding everyone involved in the fight against MS that they are not alone.
The Sweet Principles
Our values are the guiding principles that shape every aspect of our work at Cookies By George. They encapsulate our unwavering commitment to quality, our dedication to sustainable practices, and our deep-rooted belief in the power of community engagement. They reflect our advocacy for fair trade and our people-centric approach that puts our staff and customers at the heart of our business. More than just words, our values are the ingredients that make Cookies By George unique, guiding our actions and decisions as we strive to bake a difference in the world.
Quality Above All

At Cookies By George, quality isn't just a word; it's our promise. We believe in using only the finest ingredients, like fair-trade Valrona chocolate, in our handmade, from-scratch cookies. We refuse to compromise on quality, regardless of the cost, because we believe our customers deserve the very best.

Sustainability

We're committed to nurturing the environment as much as we nurture our cookies. From sourcing our gift boxes from BC's sustainable forests, to ensuring our bags are 100% recyclable, we take active steps towards minimizing our carbon footprint. We choose our partners carefully, aligning ourselves with those who share our environmental ethos.

Community Engagement

Our community is our family. From Edmonton to Vancouver, we are dedicated to serving and supporting our local communities. We believe in giving back, whether it's through cookie donations to worthy causes or supporting local businesses.

Fair Trade Advocacy

We believe in ethical business practices. That's why we work with fair-trade partners and choose ingredients from companies that share our commitment to ethical sourcing. We stand firmly against slavery and always strive to make ethical decisions in our operations.

People-Centric Approach

We value our people. Our staff are the heart and soul of our business, and we are committed to providing good jobs and a supportive work environment. We believe that when our people thrive, our business thrives.

Customer Satisfaction

Our customers are at the heart of everything we do. From baking our cookies to packing our gift boxes, we aim to create experiences that bring joy to our customers. We listen, we care, and we go the extra mile to ensure our customers feel valued and satisfied.